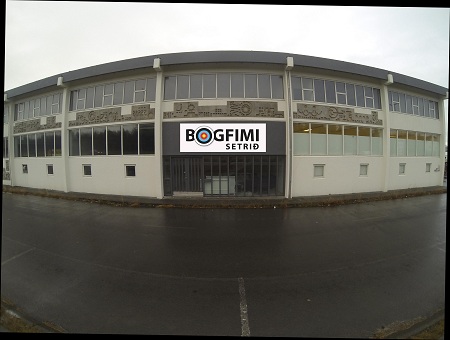 Bogfimisetrið

Archery Centre

Fun and safe sport for the whole family .

Archery is practiced like a bowling. Anyone can do it, walk in of the street and engage in archery, at any time , between 12-22 every working day or 10-22 saturdays and sundays. It's not just for the pro's archery is fun.

You can also make an appointment by phone 571-9333

All ages are welcome, 14 years and younger only accompanied by an adult , the youngest person regularly engaged in archery now is 4 year old, and the oldest is a man in his nineties : D

All you need to bring is yourself, a good mood and maybe your friends if you want to compete or laugh with someone.

All the equipment is on site. You get a bow, arrows, armguard and targets all that is needed .
Along with an instructor that introduces you to the foundations of how to shoot a bow (archery) and assists you when you need help .

Note the consumption of alcohol and use of firearms together is prohibited by law in Iceland.

Bow sizes are of all different shapes and sizes so that everyone should be able to find the appropriate size .
Armless, legless, skills less, there is a bow for everyone and we can teach them to shoot it.

The most important thing in archery is shooting position and the more you practice , the greater success is achieved.
People are often surprised by how well they do in this sport after just a couple of hours.

Up to 55 people can shoot at the same time in the Reykjavík hall.

We are often asked what is a good beginner? They are all good beginner, the difference is whether people have understood the basics that are needed or not. Most important is that the string is touching the chin and index finger runs along the jawbone .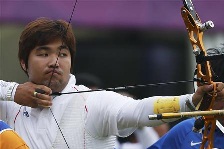 If you are hitting about 80-90 % of the arrows in the yellow and inner red ring on 10 meters with standard house target face you're good ( in other words, 90 % of the arrows in the 8-9-10 ). That would be good for your first time.

Archery is a competition sport in Iceland. Archery is an Olympic sport and is also competed in it at the Paralympic Games in standing, sitting and visually impaired classes.

The Archery Center is located at
Dugguvogur 2, 104 Reykjavik
Direct nr. +354 571 9330 or +354 571 9331

Main e-mail: bogfimisetrid@bogfimisetrid.is


Summary of the hall




General info on our staff.
Guðjón Einarsson started in archery back in 2012 and in 2014 he got 9th place at the world championship in compound team competition. Gudjon is one of our best shooters and is still improving, a spring of knowledge when it comes to gear and coaching, one of the founders of Bogfimisetrið and the GM of the archery store (GuðGuð)
Guðjón has 3rd stage coaching rights from the Icelandic Olympic- and Sports Association and is a national judge. gudjon at bogfimisetrid.is
Margrét Einarsdóttir is the General Manager of Bogfimisetrið in Kópavogur. She has worked at Bogfimisetrið since the beginning, started by sweeping the floors and painting when the room was being set up and has worked her way up to the top, and deserved it. Margrét is also the head of the youth division of Bogfimisetrið. Founder of the Sportsclub Freyja, She is president of the Icelandic archery commitee, she is also a educated kindergarten teacher and has 2nd stage coaching rights. If she needs to she takes up the whip and disciplines us (Discipline needs to be kept in the youth division, and the staff, and the family, and the customers, and the government, etc.) hehe ;) margret at bogfimisetrid.is
Guðmundur Örn Guðjónsson president of Bogfimifélagið Boginn and the CEO of Bogfimisetrið.
Guðmundur has 3rd stage coaching rights from ÍSÍ and International coach level 1 and is a national judge and more.
We are the core of Bogfimisetrið along with a army of brilliant and smart people doing extra work and volunteer work for the archery clubs, who all have experience from the sport and are ready to mediate their knowlidge onto others. And we couldnt do it without them, Thank you all.
We would like to get to know you, yes you the one reading this, drop by for a visit, yes I am inviting you :D
See you in a little while :)